The South Niagara Rowing Club is fortunate to have access to some of the best water for rowing in Canada that is maintained by the Welland Recreational Canal Comission and known as the Welland International Flatwater Centre (the WIFC). Protected by high banks and tree lined shores we have a protected waterway that provides an excellent venue for rowing.
This first photo shows both the North and South course of the WIFC. The North Course of the WIFC (upper right) provides approximately 1200M of straight waterway ideal for Masters Events. From launch to finish, everything is within the 1200M of waterway.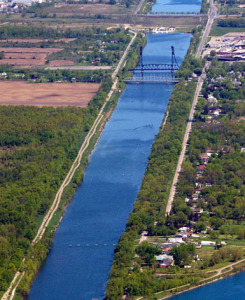 The South Course of the WIFC provides us with approximately 4000M of straight and wide waterway to hold our 2000M events as can be seen in the photo below. The boathouse is near the top of the photo. This course is where we hold our South Niagara High School Invitational and the RowOntario Provincial Championships. We have also had the pleasure of hosting our National Team as they prepared for National and Olympic events in years past.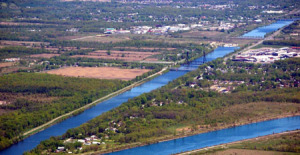 Our annual Head of the Welland – Five Bridges Fall Classic event is held on the North Course of the WIFC. The event starts 4800M north from the finish line. The finish line is just off the bottom edge of the photo below. As you can see, the waterway is wide and is a powerboat free venue, ideal for such events.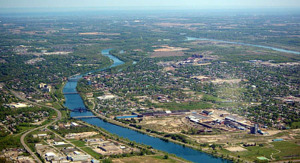 The waterway was originally used by large lake and ocean going vessels as they traversed the Niagara Peninsula between Lake Erie and Lake Ontario. It has since been replaced by a straighter course for these vessels as seen in the upper right of the photo. As a result we have a deep and protected waterway to host our events.